Drop Everything and Read (DEAR)
Drop Everything And Read time is better known as DEAR time. It is time regularly set aside in the school timetable for both students and their teachers to "drop everything and read."
Here at AIM North London, we begin every day with DEAR time from 8.11am to 8.41am because we recognise the importance of improving our reading. Each student has a DEAR coach who reads aloud with the class to help improve our vocabulary and reading fluency. DEAR time is hugely important for raising our reading ages which helps us succeed across all our subjects.
DEAR Books
Each DEAR class chooses a book with their teacher from the great range of books we have available.
Here are some of the books in our DEAR collection…
Noughts and Crosses by Malorie Blackman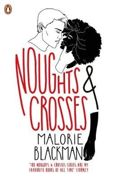 Sephy is a Cross: she lives a life of privilege and power. But she's lonely, and burns with injustice at the world she sees around her.
Callum is a nought: he's considered to be less than nothing - a blanker, there to serve Crosses - but he dreams of a better life.
They've been friends since they were children, and they both know that's as far as it can ever go. Noughts and Crosses are fated to be bitter enemies - love is out of the question
Wonder by R. J. Palacio

August (Auggie) Pullman was born with a severe facial difference that, up until now, has prevented him from going to a mainstream school.
Starting 5th grade at Beecher Prep, Auggie wants nothing more than to be treated as an ordinary kid—but his new classmates can't get past his extraordinary face. Wonder begins from Auggie's point of view, but soon switches to include the perspectives of his classmates, his sister, her boyfriend, and others. These voices converge to portray a community as it struggles with differences, and challenges readers, both young and old, to wonder about the true nature of empathy, compassion, acceptance, friendship, and—ultimately—kindness. Auggie is a hero for the ages, one who proves that you can't blend in when you were born to stand out.
Once by Morris Gleitzman
Once is the story of a young Jewish boy who is determined to escape the orphanage he lives in to save his Jewish parents from the Nazis in the occupied Poland of the Second World War.
Everybody deserves to have something good in their life. At least Once.

Once I escaped from an orphanage to find Mum and Dad.

Once I saved a girl called Zelda from a burning house.

Once I made a Nazi with a toothache laugh.

My name is Felix. This is my story.
Online Learning at AIM North London