Year 12
You will be following your normal school timetable. You will need to find your lesson channel and join the call at the time of your lesson. You will also receive a call from your House Coach once a week during LEAD time. Just like when we are in school it is very important you are attending every lesson so no learning time is being lost.
If you are unable to attend school due to sickness then your parent/carer must call the school number to let us know – 02084338500.
If you need equipment or you are having trouble accessing your lessons please email Ms Abbott your Head of Year – L.Abbott@aimnorthlondon.org.uk
What are the expectations in your lessons?
Part of the lesson

Expectations of student

How your teacher will support?

RDN

Answer all questions in your book.

Be prepared to answer either in the chat or verbally.

Your teacher will always provide answers and the opportunity to explain any questions students are unsure on

Teacher Model

Follow the model, copying down any relevant information.

Provide clear models, either through PowerPoint of use of a visualiser and allow students to ask any questions during this time.

Checking for understanding or practice questions

Answer all questions in your book, showing your working out.

Submit your answer as requested by your teacher.

Provide questions which follow on from their model and allow students to practice the new skill whilst being supported.

Independent work

You will be asked to complete your independent work based on the learning of that lesson.

This might be done in your book, on the computer or on another programme like Hegarty.

During this point in the lesson teachers will still be in the meeting to help with any questions and offer feedback.

Quiz/Assignment

At the end of the lesson your teacher will ask you to complete an assignment.

This must be done during the lesson.

Teachers will provide feedback to students on the quiz or assignment, this could be individual for longer answer questions or immediately feedback for shorter questions. Any misconceptions that will then arise will be addressed in the following lessons
What should work look like?
This will depend on your subject, but when asked all work should be completed in your exercise book or on paper (if you need an exercise book then please contact your Head of Year).
You can see some great examples of work below: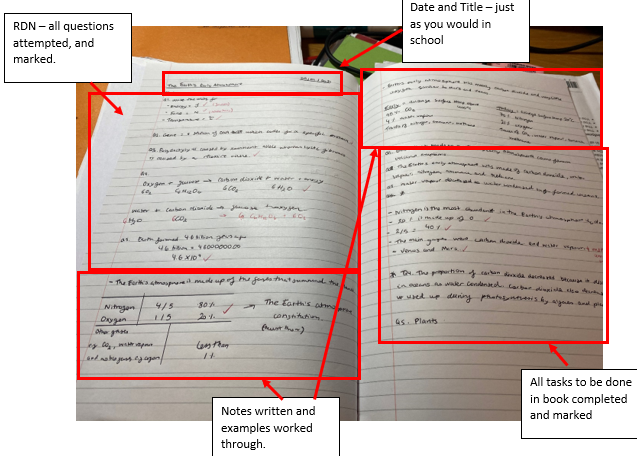 Other programmes being using in lessons:
| | | |
| --- | --- | --- |
| Subject | Programme | Link |
| Maths | Hegarty Maths | |
| Science | Seneca | |
| Languages | Memrise | |
Online Learning at AIM North London